Research and Production Bases
MBL has a research laboratory in Ina, Nagano Prefecture.
Ina Laboratory undertakes the development and production of
in vitro
diagnostics and research reagents to be commercially distributed in Japan and overseas.
The laboratory has expanded to meet growing demands for MBL products and a new facility, the "manufacturing facility No.2"(3 stories with a total floor area of 3,880 m
2
), was completed on October 31, 2015. The new facility has manufacturing equipment and sophisticated systems that can comply with inspection by overseas pharmaceutical regulatory agencies (e.g. the US FDA).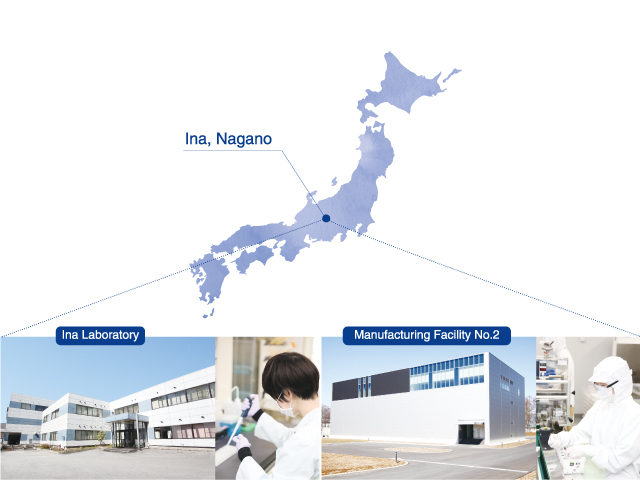 In addition, the new company established MBL Hangzhou Biotech Co., Ltd. (MBLH) in Yuhang, Hangzhou, Zhejiang in February 2017 to expand diagnostic raw material business in the fast-growing Chinese diagnostics market.
The mission of MBLH is to promptly introduce new products that meet needs in the Chinese market and to reduce production costs of those products. MBLH is commencing its operations with the development of antibodies and development and production of latex diagnostic raw materials and the supply of high-quality products to customers in China. At the same time, the company has plans to develop original MBL branddiagnostics products and supply them to the Chinese market in the future.